In an increasingly digital world, where every aspect of our lives is touched by technology, it's only natural that healthcare employers should embrace innovative ways to engage with healthcare professionals or risk being diluted by the noisy masses. Simply engaging with physicians, Nurse Practitioners, Physician's Assistants and other HCPs has become significantly more challenging for healthcare recruiters. Traditional methods of "reach out" recruitment include emailing, messaging, texting and calling prospective hires, asking for referrals and posting on social media and job boards. But in an increasingly noisy world, low engagement has become the norm so how can you break through?
Enter the world of 1:1 Digital Engagement Targeting – A recruitment game-changer for hospitals, clinics, medical practices, and other orgs seeking to attract top-tier healthcare talent. Healthcare professionals constantly browse health and medical websites like WebMD.com, Drugs.com, Sharecare.com, Healthday.com, Everydayhealth.com and others. The majority of those sites do not feature jobs or have job boards for healthcare professionals but they do feature Tap Native ads prominently inside the content. When employers target specific HCPs for recruitment, this is what the ads look like.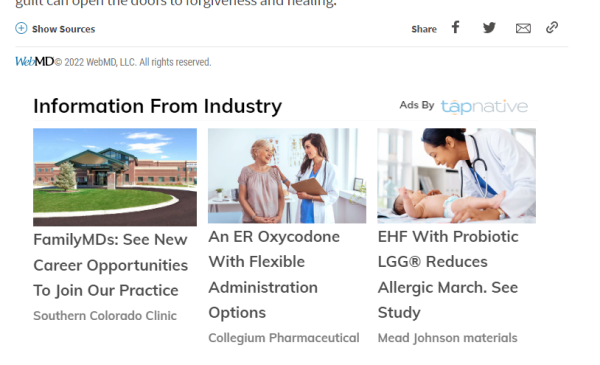 1:1 HCP targeting means displaying your employment ad to a specific type(s) of HCP(s) in your geographic footprint. For example, the Southern Colorado Clinic, example above, chose a radius of 40 miles around their clinic address to target the HCPs they were interested in engaging. Recruiters can choose to target by professions like MDs, PAs and NPs and specialties like family medicine, emergency medicine, psychiatry, obstetrics and gynecology, anesthesiology and dozens more. Recruiters can also upload a custom NPI list to target only those HCPs they desire to reach. These "native" style recruitment ads typically drive HCPs to an individual job description or to a career board, job listing page or ATS. Best of all, HCP recruiters only pay a cost-per-click when the HCP clicks their ad. HCP clicks start as little as $5.00 for any HCP and move higher as the targeting narrows to profession, specialty or custom NPI list. On top of this, all campaigns automatically come with near real-time PLD reporting so you'll see a list of every HCP that's clicked your recruitment ad. This will include their full name, specialty, NPI number, the ad id they clicked, a timestamp and an indication of whether they converted. The report makes warm follow-up a snap because now you have a reason to contact them. "Hi Doctor Smith, I know you saw our job ad for XYZ". Here's a screen shot of our HCP Reporting Dashboard: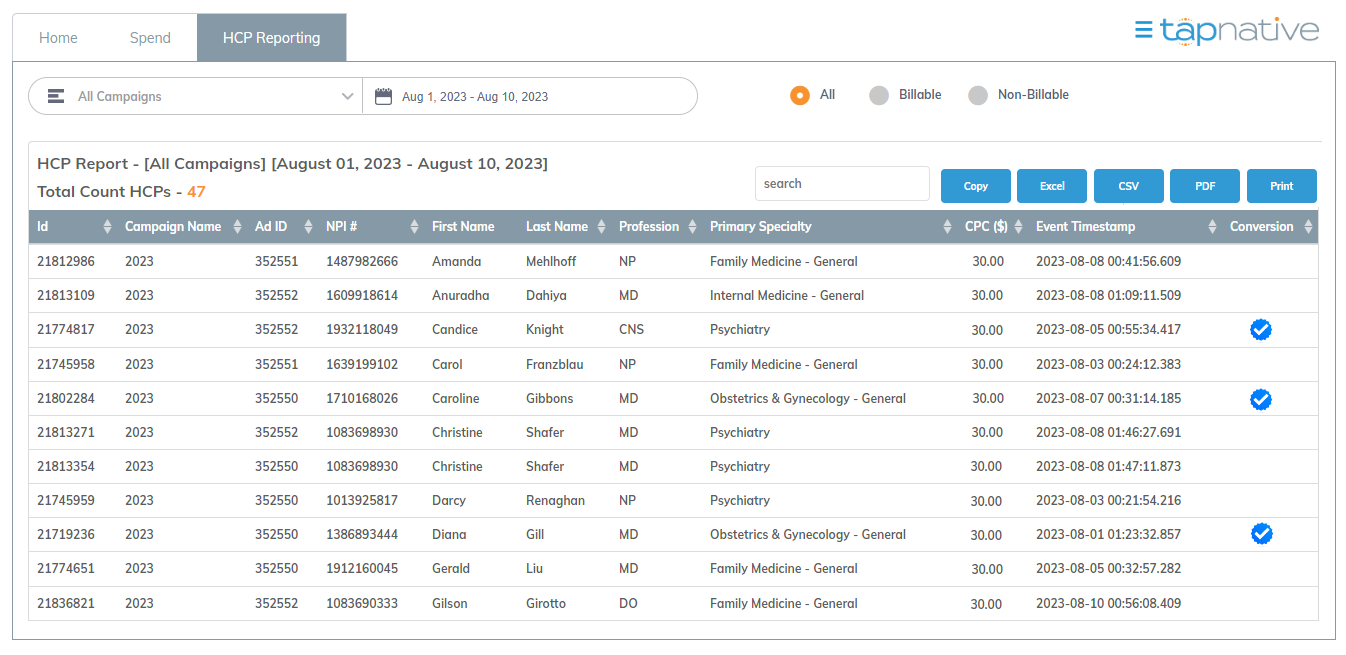 Third party healthcare recruiters have already begun adopting 1:1 Digital Engagement Targeting for healthcare recruitment. One such recruiter used Tap Native to display their ad to oncologists in California which looked like this: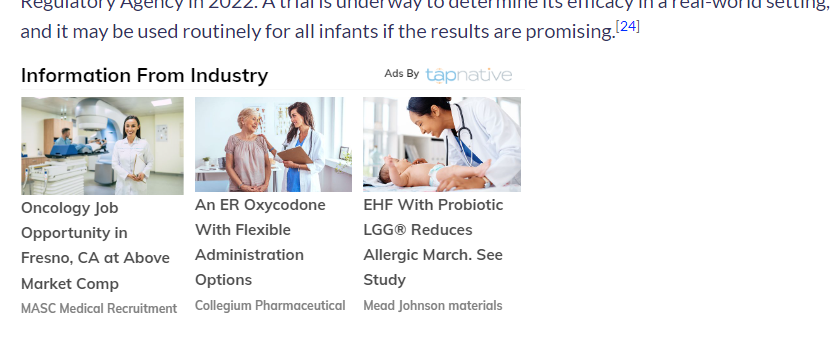 Because Tap Native ads are integrated into the content sections of hundreds of health and medical websites, they reach HCPs while they are browsing health and medical information which they often do daily. You only pay when the ad is clicked and you get a list of every single HCP that's clicked your ad(s). Cut through the noise and start engaging HCP talent. You can start with as little as $500 and if you create an account now, your ad can be live in around 5 minutes. If we can answer questions or give you a demo, contact us below.